Description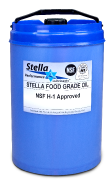 STELLA HT 300 is a food grade high temperature chain lubricant that is designed for the lubrication of oven chains, conveyor chains and bearings running continuously at high temperatures, up to 300°C, and short periods up to 320°C.
It is based on specially selected synthetic bio-degradable base oils and is inhibited against oxidation to provide a long wet film life at high temperatures.
STELLA HT 300 Chain Oil is characterised by
Long fluid life at high temperatures
Does not form hard carbon deposits
Good load and anti-wear properties
Miscible with most ester based fluids
Highly polarised molecules provide excellent lubricity
NSF H1 \ Food Grade \ Foodsafe for the use in HACCP Certified Food and Packaging Manufacturing Plants.
Best suitable applications: drive and coveyor chains in bakery ovens, drying machines, textile stenters and on paint stoving chains that operate at high temperatures.
Product
Vis @ 40°C
Pour Point
Operating Temp.
Pack sizes
STELLA Chain Oil HT 300
220
-25°C
10 to 300°C
(Up to 320°C for short periods)
5L
20L
205L





STELLA Food Grade High Temperature Chain Oil (HT 300) is NSF H1 registered for incidental contact with food (the global food grade lubricant standard for food processing and packing equipment) and meets AQIS Lubricant Type A requirements.