STELLA Food Grade Lubricant Starter Kit
NEW PRODUCT – STELLA Food Grade Lubricant Starter Kit
Take the cost out of using NSF H1 Food Grade Lubricants with STELLA Food Grade Lubricant Starter Kit for only $66.
Every maintenance worker in Food Manufacturing needs a tool kit and STELLA Food Grade Oils have made lubrication easy with the STELLA Food Grade Lubricant Starter Kit.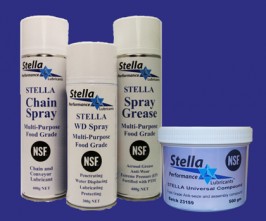 Each Kit features:
WD Spray – displaces water, penetrates, lubricants and anti-corrosion
Spray Grease – Wide temperature range grease
Chain Spray – waterproof chain and rail lubricant
Anti-seize – prevents bolts seizing and extends equipment life
For just $66 per kit, your maintenance team will be ready to jump into action with total food safety as all products are NSF H1 registered and safe for incidental contact with food.
Available across Australia through a network of distributors, contact STELLA for your nearest distributor.
Enquire about this product